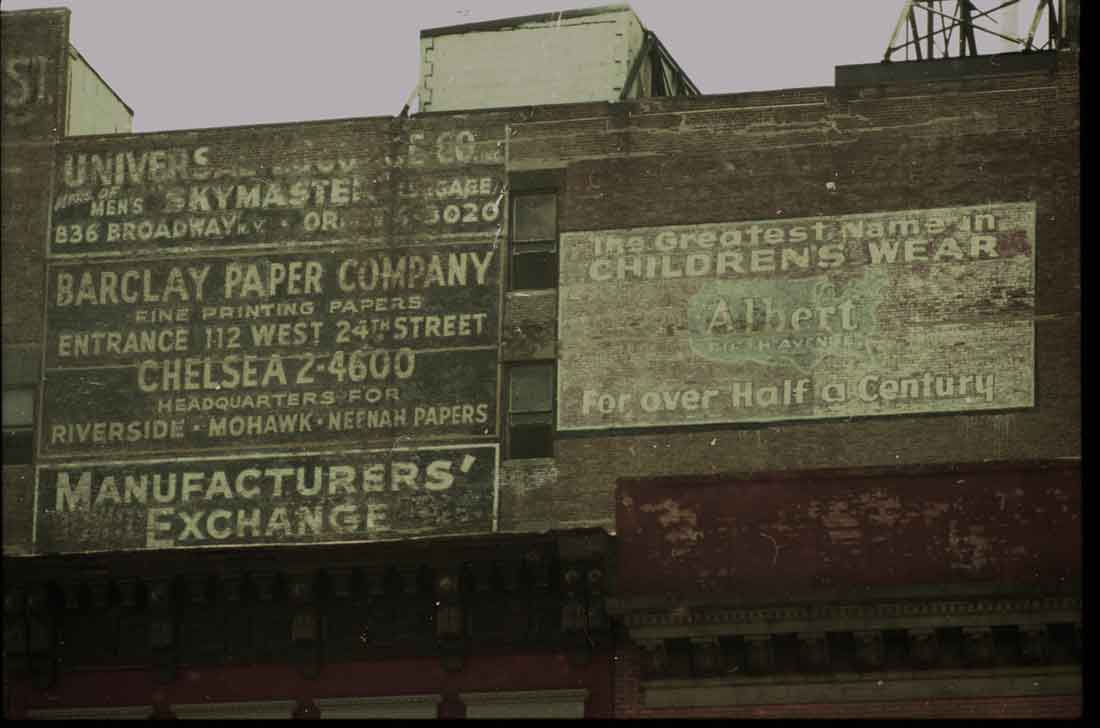 Barclay Paper Compay, 112 W. 24th St. (1986)
I was not able to find much information about Barclay Paper Company other than what is on the sign. They date from 1947, were located in the Bronx first at 321 E. 149th St., then at 140th St. on the East River, then moved to 112 W. 24th St. in 1955. The New York Times noted this event with "After many years in the Bronx, the Barclay Paper Company has decided to move closer to its customers and has leased the store at 112 West Twenty-fourth Street in Manhattan for a long term at rentals aggregating $100,000. Williams & Co. negotiated the lease." (NYT, 6 June 1955, pg. 39)
They were located here at 112 W. 24th St. from 1955 to 1972. Then they were in business on West 50th St. through 1976. A classified ad in 1958 read, "Barclay Paper Co, Inc / Fine paper - mimeo bond / sulphide bond - rag bond / duplicator - offset - tag board / gum - ledger - manifold - cover / 112 W 24 St, NYC Chelsea 2-4600."
At his daughter's marriage in 1974 Paul N. Pellman of Oceanside, Long Island, was identified as "president of the Barclay Paper Company, a wholesale distributor." The Social Security Death Index lists a Paul N. Pellman who was born 15 April 1915 and died 23 December 2011. There was also a Bruce Pellman whose biography says he "worked in the wholesale paper distribution industry for 26 years. He was Vice President of sales at the Barclay Paper Company."
Other signs on this wall include Universal Luggage, Manufacturers' Exchange and Albert Fifth Avenue.
< previous || next > street index map signs by date signs by name see what's new